UPCOMING SHOWS:
STAY TUNED FOR SHOW ANNOUNCEMENTS TO COME!!


PRIOR SHOWS:
CD RELEASE PARTY – Sept 26, 2014 – EL-MOCAMBO
Jason Dodge had an amazing evening at his CD release party sharing music and fun with fans.
The setlist included all the numbers from his new album "Always", a few old favourites from "Life Between Pings", and special cover versions of "Make You Feel My Love" (Dylan) and "Cats in the Cradle" (Chapin).
Special moments included a surprise gift for all guests, a surprise 40th birthday party for Levi Laszlo, an unexpected trip to the stage by daughter Olivia with headwear fashion advice, and the world premiere of Jason's new video for his first single "I Can't Stop" (directed and introduced in person by Michael Bloom!).
Jason was joined by a number of talented musicians – most of whom contributed to the original recording of "Always" over the past year – including:
Bob McAlpine (guitar) – rocked the house with amazing solos and steady rhythms
Tim Johns (guitar) – made the music truly rock with solid guitar adds
Mike Gresko (bass) – pumped out the bottom end to keep things moving
Donn Dixon (drums) – steady Freddy that made us "Pack Up" for the first time!
Steve McDonald (saxophone) – joined Toronto music history in the style of Saturday night live
Tess Crowther (cello) – sent shivers down our spines with her beautiful solos and tone
Dan Speck (backup vocals) – harmony and auxillary percussion that flavoured it all sweetly
Thom Speck (backup vocals) – brought the hometown to its feet with backups (fighting through illness like a champ!)
Special thanks to my opening act – "Speck Bros." Dan and Thom Speck pulled double duty – helped pull it all together and get the crowd worked up for the main event! Truly a class act to keep an eye on – am expecting good things to happen for them soon too!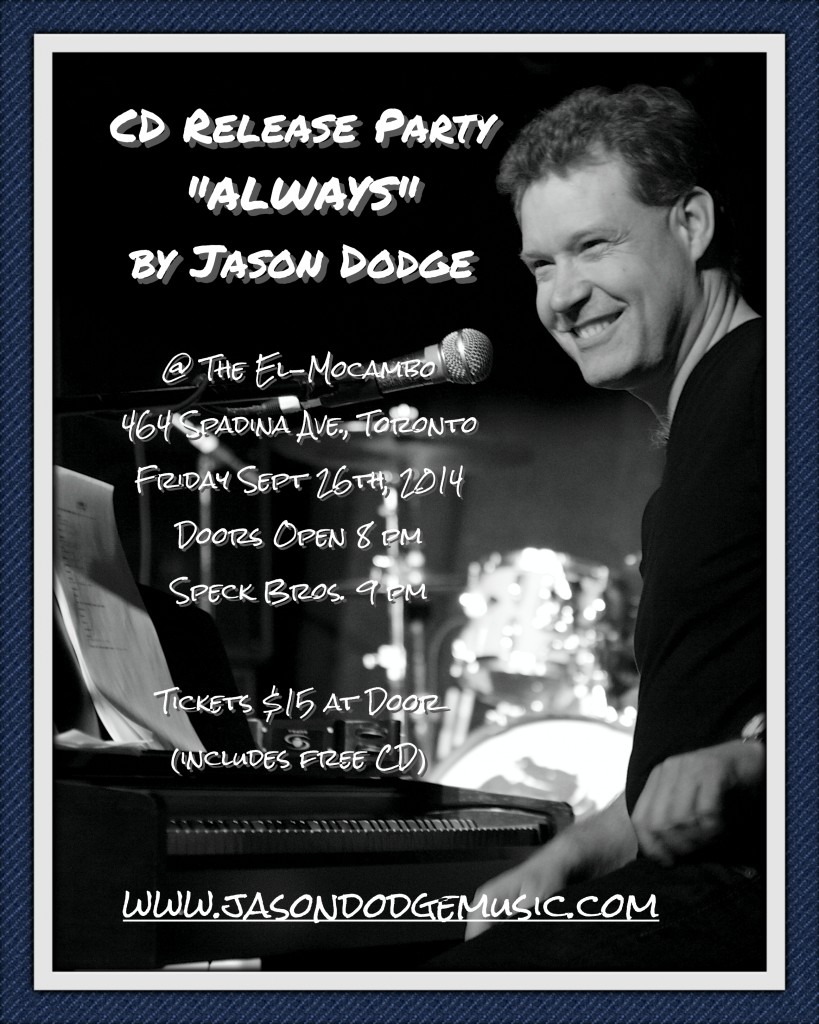 Map to the El-Mocambo
Check out the Opening Act
Check out the Band
SHOPPER'S DRUG MART WEEKEND TO END WOMEN'S CANCERS – September 7th, 2014 – Kew Beach (Toronto, Ontario)
I was thrilled to be asked for a return performance at this important fundraiser in support of the Princess Margaret Cancer Centre, where I work as a Gynaecologic Oncologist. I played for the 4000+ participants and staff in the walk at the lunch stop to help keep them going on their journey!
The weather was incredible for an outdoor concert – apparently my music was heard up and down the sunny beach all afternoon by folks there!
Joining me this year was Bob McAlpine (guitar), Mike Gresko (bass), Donn Dixon (drums), and Steve McDonald (saxophone) – and a surprise guest appearance by Alexa on the tambourine! She rocked it!! We played Jason Dodge original music including tunes from my upcoming new album "Always". Of course we threw in a couple great covers to help keep things going and even wrote a new tune during the sound check. Incredible what happens when the everyone is in the mood 🙂
Thank you to all those who contributed to the success of the event – organizers, crew, medical staff, and most importantly the walkers.
Hope to see you all there in support of the WALK again next year!!
ROCK THE FOUNDATION IV  – Friday, December 20th, 2013 – Hard Rock Cafe (Toronto, Ontario)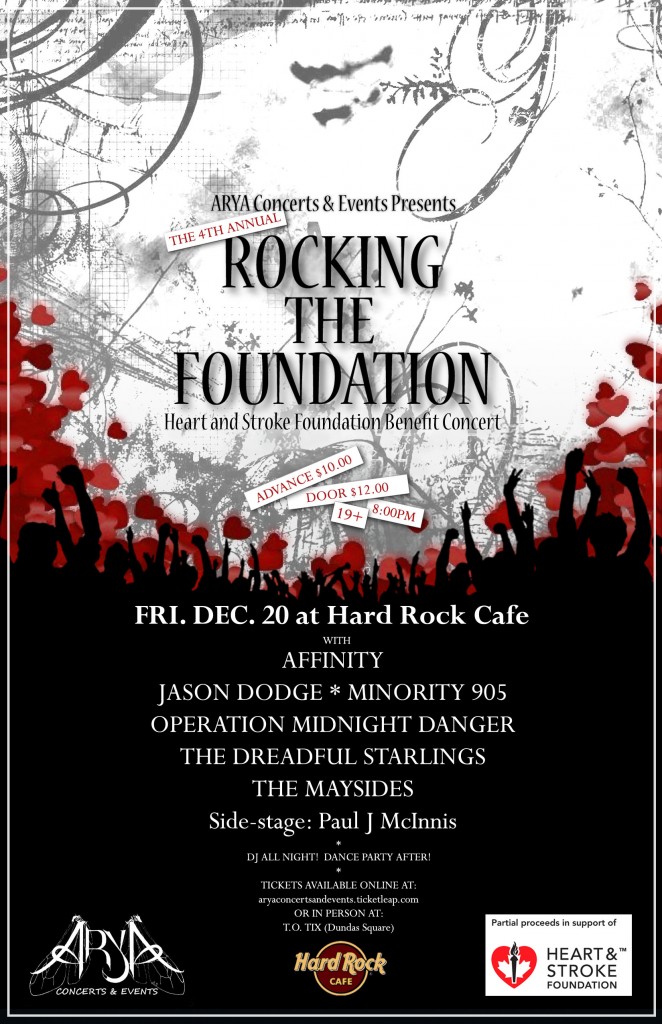 I was invited to play at this year's event in support of the Heart & Stroke Foundation at the Hard Rock Cafe!
4 other bands, a DJ, and guest host also performed.
Despite the lousy winter weather, Jason Dodge fans raised the roof and a whole lot of money for the Heart & Stroke Foundation – it truly ROCKED!
Thanks so much for sharing 🙂
SHOPPER'S DRUG MART WEEKEND TO END WOMEN'S CANCERS  – September 7th, 2013 – Norway Public School (Toronto, Ontario)
I was honoured to provide the lunchtime entertainment for walkers and staff of this important fundraising event for the Princess Margaret Cancer Centre, where I work as a Gynaecologic Oncologist.
Performed for almost 4000 people through the course of the lunch break!!!
Planned outdoor concert converted to gig inside public school gymnasium on account of pouring rain – gave me a chance to play more intimately for folks to put a little sunshine back into their day.
Backed up by musical guests Dan and Thom Speck (Speck Bros) and Ian Macchiusi – awesome three part harmonies and good vibes all around for energetic covers (Mrs. Robinson rocked!) and a few Jason Dodge originals – including one I wrote specifically for the walkers for the event to thank them for their participation.
Check out the photo gallery for other great memories!!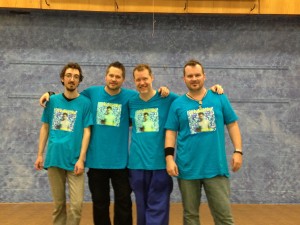 CALGARY's GOT TALENT – Healthy Women, Healthy Future Gala (Canadian Foundation for Women's Health) – June 12th, 2013 – Fairmont Palliser Hotel (Calgary, Alberta, Canada)First out of town tour – limo from airport rocked!!
Participated in mock version of popular talent contest with other Canadian OB/GYNs to raise funds for CFWH.
Performed three numbers including two original tunes from "Life Between Pings" – left the crowd dead silent after Kate's song – really hit home.
We raised over $5000 with the event!!
VIDEO RELEASE PARTY – April 13th, 2013 – Revival Bar (783 College St. Toronto, Ontario)
Was another awesome show sharing music, videos, fun, and friendship!!
Opening Act Raina Krangle did an amazing job with her acoustic guitar solo set including a few numbers with JD.
JD's first solo set on piano included favourite ballads and inspired instrumental.
Released new official videos for "In the Air Tonight" and "Going My Own Way" – now available on my YouTube channel.
Finished up with amazing set with the band (Bob, Don, Marcus, Andrew, and Dave) including a duet with Raina and a surprise reggae version of "In the Air Tonight" that rocked the house!
Check out the photo gallery for memories to share!!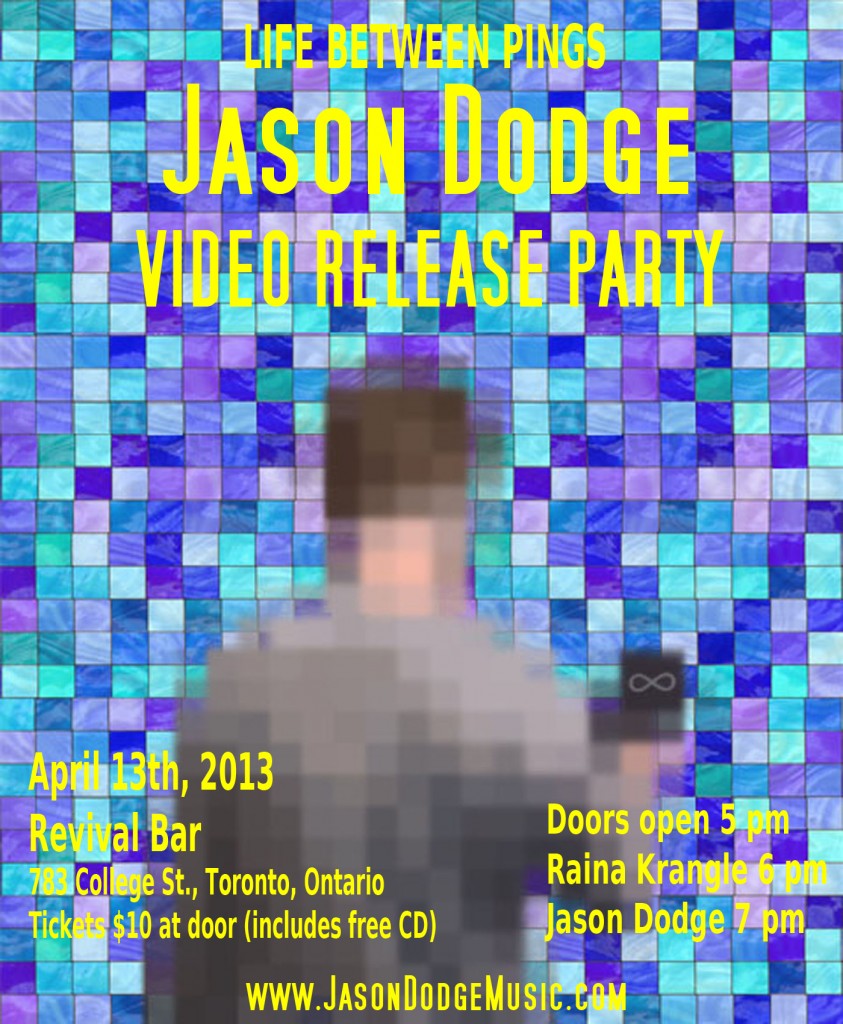 CD RELEASE PARTY – Nov 22nd, 2012 – LIVE AT THE OPERA HOUSE
What an amazing night – debuted my album with a 12 piece band for a live crowd at an amazing venue!
And the highlight was sharing the night with my daughters Madeline and Olivia (who joined me on stage for a brilliant duet!).
For fans who enjoyed the show – or those that couldn't be there – you can find the gig info and memorabilia here. Be sure to check out the photos in the gallery and store too!