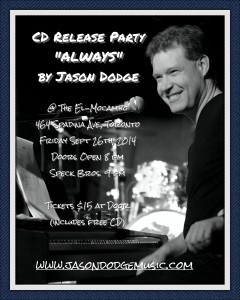 Hello Fans
This week marked the next step in Jason Dodge's musical journey with the official announcement of the impending release of his album "Always" to be marked at a CD release show at the legendary venue "El-Mocambo" in Toronto on September 26th, 2014.
"I simply can't put into words how incredible it is to have the opportunity to share my new music with everyone from the same stage as so many legends in music have done", said Dodge, "it blows my mind to think the Stones, U2, Stevie Ray Vaughn, Duran Duran, and so many other big names have played there!".
According to Dodge's website, a number of talented musicians will join him on stage at El-Mocambo, many of whom contributed to the recording of the album over the past year, including Bob McAlpine (guitar), Mike Gresko (bass), Donn Dixon (drums), Steve McDonald (saxophone), Tess Crowther (cello), and Dan and Thom Speck (backup vocals).
Apparently tickets for the show are only available at the door for $15 and guests will receive a free Jason Dodge CD and copies of "Always" will be available ahead of the scheduled iTunes release date in October. Doors open at 8 pm, and special guests the Speck Bros (Dan and Thom Speck) will open the show at 9 pm.
Also set to preview at the show is Jason's newest video – "I Can't Stop" directed by Michael Bloom of Solaris Entertainment in Las Vegas.
"I just can't wait to share this night with everyone soon", says Jason.
Don't miss it fans!!