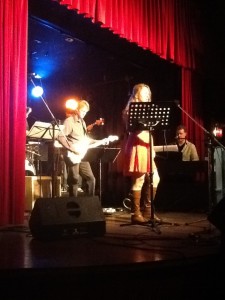 WOW! WHAT A NIGHT!!
Last evening saw Jason Dodge release two new videos at his official video release party for his recently released debut album "Life Between Pings".
Playing to a packed house at Revival Bar on College St. in Toronto – Jason delivered an awesome performance that included new arrangements of several numbers including the title track from the album.
Toronto singer/songwriter Raina Krangle opened the show will an inspired original set that featured Jason on several numbers on piano, backup vocals and acoustic percussion that included a cover of Serena Ryder's duet "Please Baby Please" – a choice inspired by her recent concert in Toronto (that Jason apparently attended).
Jason followed with an on-stage debut solo set including an inspired instrumental (A Song) to open, a dedication to a patient (It's So Hard to Say Goodbye) and a touching performance of his pop ballad "You'll Never Know" supported by Marcus Ali on saxophone.
The video release portion of the show featured movie theatre style HD video showings of his two new videos – "In the Air Tonight" (an absolutely awesome cover version of the Phil Collins classic with a full horn section and backup singer line) and "Going My Own Way" (an original pop hit by Dodge) – introduced by the artist himself and his video producer David Ward.
After the video showing Jason took time to mingle with the crowd and sign fans' albums and shirts from the show before suiting up for another set – this time with his incredible band including Bob McAlpine on guitar, Don Dixon on drums, Marcus Ali on saxophone, Andrew Stewart on bass, and David Ward on backup vocals. Raina Krangle joined the band for Jason's original duet "Do You Remember" – previously performed with his daughter Olivia. The set saw a couple new covers performed and the encore numbers absolutely brought the house down – concluding with a surprise reggae arrangement of "In the Air Tonight" that had fans dancing along with Dodge.
By all accounts the evening was a spectacular success – and Jason is looking forward to planning more shows soon to continue sharing his music. GO CHECK OUT his newly released videos on his updated YouTube channel (www.youtube.com/channel/UCeBmHSHb72Frz6EHsjwFj5Q)!